Jio was launched on 27 December 2015 with a beta for partners and employees and became publicly available on 5 September 2016.
As of 31 December 2019, it is the largest mobile network operator in India and the third-largest mobile network operator in the world with over 370.07 million subscribers.
It is also the fourth largest provider of fixed telephony in the Country. (source: https://en.m.wikipedia.org/wiki/Jio)
How did Jio disrupt the telecom industry in just a couple of years?
Let's dive deep into it.
---
Jio created a whole new market segment (Blue Ocean Strategy)
Before the advent of Jio, there were three major telecom players – Bharti Airtel, Vodafone India, and Idea cellular.
They all targeted the Indian market based on one primary feature, voice call.
Who gives the cheapest call rates, who has the best network, who gives the best offers?
They were all fighting for a piece of the pie, they were sharks fighting in a red ocean, cut-throat competition.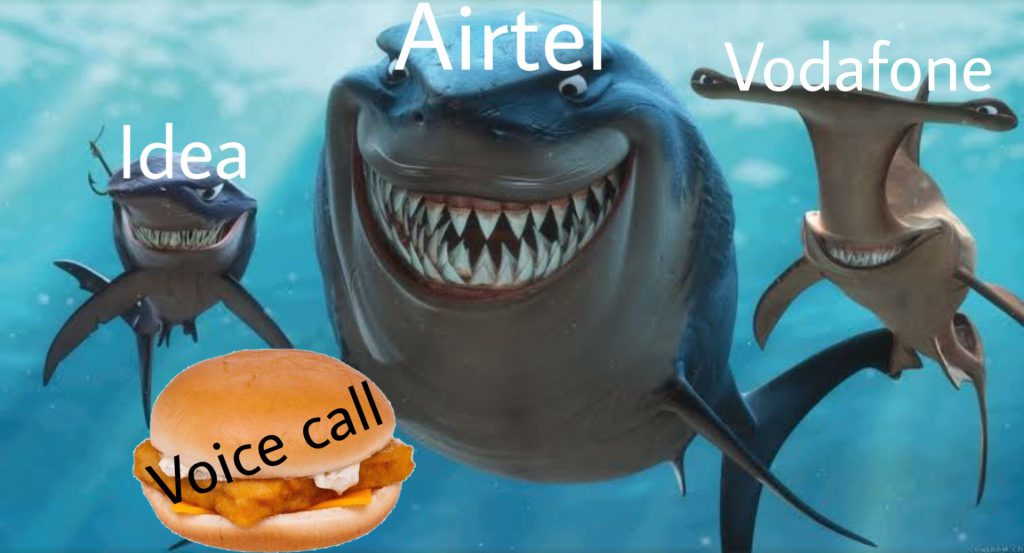 This strategy had been going on for years.
Then came Jio, disrupting the Indian telecom industry, creating a whole new ocean, creating a whole new need, DATA.
Jio(blue ocean strategy) targeted the same consumer segment but the demand they intended to fulfill was different. When other companies were fighting for call rates, Jio gave customers unlimited free calling, hence making other telecoms' plans look like a zero "value for money" proposition.
They realized where the real money was, a large sector of the Indian audience was not online.
The percentage of the population using the internet in India was 17% in 2015, 22% in 2016, and 34.45% in 2017. (source)
They realized that with the boom of social media, e-commerce, and gaming, everything is online these days and the average individual's desktop usage is slowing down.
People are using their smartphones more than ever, so, they need accessible data everywhere, they need data on-the-go. So, why not target
In 2016, out of the total population of 1,299.8 million, only 367.5 million people were wireless data subscribers.
Whereas, in 2018, out of the total population of 1,334.2 million, 578 million people were wireless data subscribers.
---
Jio started out by giving free sims to customers.
Just visit a Jio store, get a sim using your aadhaar card and you get free data, free calling, free messages, and on top of that, everything unlimited.
Plans offered by other telecoms before Jio came along were close to 300rs for 1GB 3G data for a month.
With Jio offering unlimited data every day, this made the other telecom companies' plans senseless.
Well, in reality. they didn't even ask other telecom companies "ye haath mujhe de de Thakur", and cut both their hands, i.e. (calling and data), like literally.
This free service period was later extended till April 1, 2017, via Jio's happy new year offer.
Jio made people use data extensively, they made people spend time online for hours every day when just a few months ago people were not even online for hours in one month.
The average wireless data usage per wireless data subscriber per month increased from 1.14 GB, year: 2016 –> 4.11 GB, year: 2017 –> 7.60 GB, year: 2018.
The demand for data increased even more as consumers became habitual of high data usage, positively re-inforcing Jio's game plan and consolidating their market position.
---
Another factor that consolidated Jio's market entry was the 4G spectrum.
Firstly, other telecoms were not starting on the 4G spectrum as it was very expensive and required a whole new infrastructure.
Secondly, Jio invested heavily in the 4G infrastructure.
Mr. Mukesh Ambani said in an interview that the reliance group will invest 2.5 lakh crores in Jio. (Source)
Jio came and just offered 4G services, no 3G, no 2G in order to render these technologies obsolete.
Airtel, Idea, Vodafone, and other telecoms were working on this old infrastructure, so, when Jio offered only 4G services these telecoms had a massive entry barrier to overcome.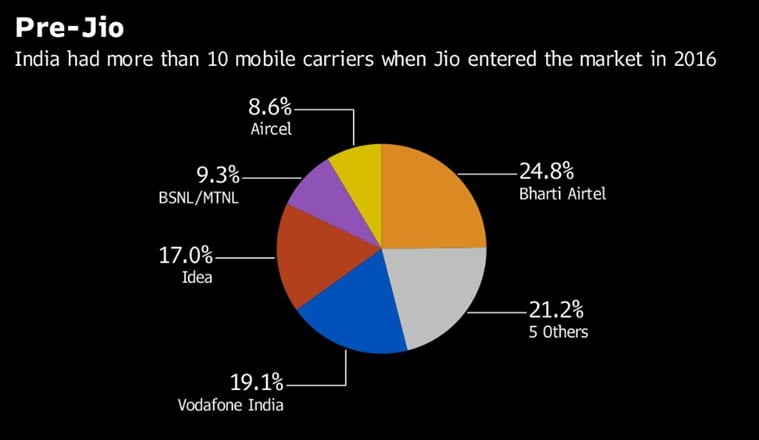 When the other telecoms did start their 4G services at a considerable level, long after the launch of Jio, they had already lost half the battle because Jio had already captured a huge chunk of the market.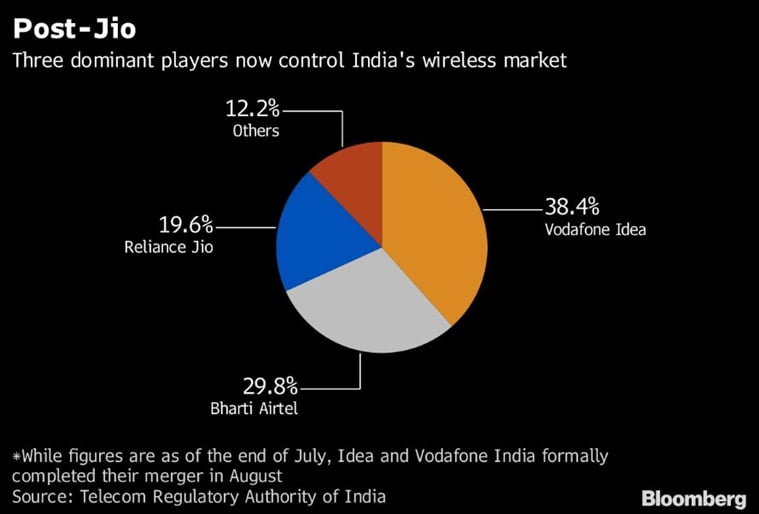 ---
Price war
Even after ending the free services period, Jio consistently kept its price lower than its competitors.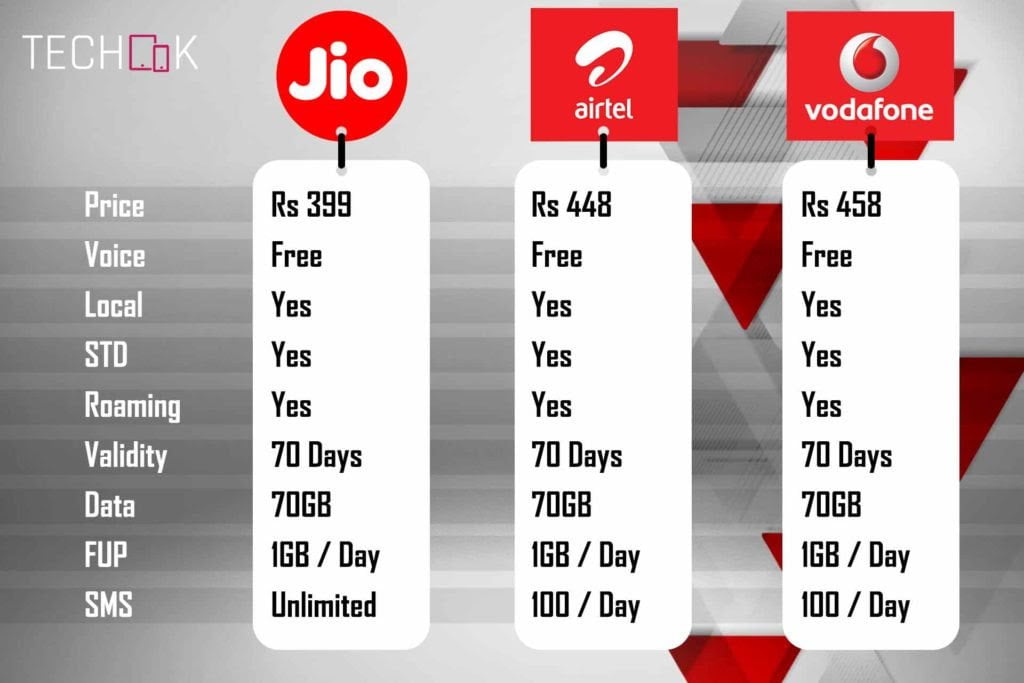 On Oct. 9, 2019, Jio announced that it would start charging users 6 paise/minute for outgoing calls to other operators.
However, this was against the telco's promise of free unlimited calls and texts, as well as affordable data, made at the time of its launch in September 2016.
It was a very smart move as, by the time, their market share for telecom subscribers stood at 30.26%, according to TRAI's monthly report on subscription data of telecom networks, published on November 19, 2019.
This strategy led to people using more Jio to Jio calls.
Jio has sparked a price war in India's hyper-competitive telecom market.
Do you know? India currently has the lowest data rates in the whole world.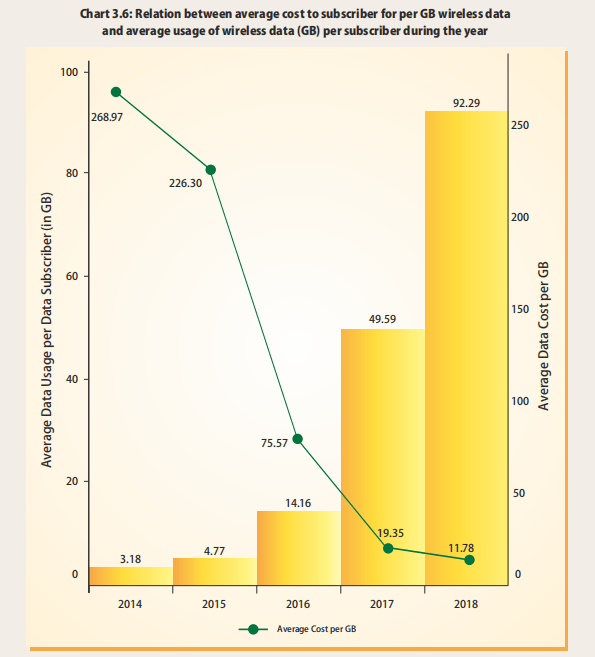 Some factors other than their perfect game plan that played a crucial role –
Government's advancements towards Digital India like the demonetization of currency which happened on 8th November 2016, GI cloud platform, Jan Dhan scheme, make in India, etc.
Mr. Mukesh Ambani's deep pockets. The fact that Mr. Ambani was India's richest man even in 2016 before the launch of Jio cannot be overshadowed. His power and influence were far beyond anyone in the Indian business ecosystem.
But, everything comes at a cost, there are always two sides of a coin!
Do you know? Reliance Jio reported total debt of nearly 1,450 billion Indian rupees in the fiscal year 2019.
Though, in 2020, Reliance Industries Ltd (RIL) has taken over some of the debt liabilities of Reliance Jio, allegedly 1.08 trillion Indian rupees.
---
In conclusion, I would just say that Jio played a big role in the ongoing digital revolution.
India missed the first and second industrial revolutions in the 19TH and 20TH century but India has been lucky to be at the forefront of leading into the digital revolution.
Charts and graphs sources:
TRAI's Wireless Data Services in India analytical report
https://main.trai.gov.in/
https://www.techook.com/news/jio-rs-399-vs-airtel-rs-448-vs-vodafone-rs-458-plans-free-data-unlimited-calling-and-sms-compared/lite/
https://www.techook.com/news/airtel-rs-509-vs-jio-rs-498-vs-vodafone-rs-509-quarterly-prepaid-plans-comparison-jan-2018/lite/
https://www.communicationstoday.co.in/four-charts-that-show-how-reliance-jio-has-shaken-up-indias-telecom-industry/
All the relevant website sources have been mentioned.
No copyright infringement is intended.
---
If you like this case study, let me know in the comments section, feel free to share it with your friends.
You can contact me at rawatmehul19@gmail.com
---